The one and only machine in the world to fabricate lines and spaces under 100µm (FP-21T Series)




Since high-frequency characteristics is necessary for RF circuit boards, it is important to
mill sharp edged lines and spaces as below




However, the lines and spaces milled by average prototyping machine with 60 degrees
milling cutter (without run-out in consideration) will result to the picture below;
un-perpendicular cutting edge, which is inadequate for RF circuit boards.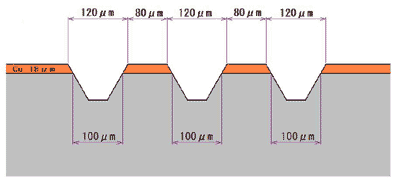 ---
Reason why FP-21 series are capable
1.
Holds necessary tools to fabricate

HF Milling bit
0.1mm
0.15, 0.2, 0.3, 0.5mm

2.
Low runout of the spindle motor

| | | |
| --- | --- | --- |
| FP-21T | ------ | within 25µm |

3.
Capable of Stepping fabrication
Read more
Reason why competitor's machines are incapable
1.
They don't own adequate tool bit

End Mill (RF)
36mm, d=0.15mm (6mil)
36mm, d=0.25mm (10mil)
36mm, d=0.40mm (16mil)

2.
Runout of the spindle motor is not specified
3.
Incapability of Stepping fabrication
---
Introduction Example
FP-21T / FP-21THP

Please see for introduction examples.
FP-21T Precision


Professor Dr. Antonije Djordjevic / University of Belgrade FP-21T Precision
Besides achieving a significant step-up in the quality of manufacturing of microwave printed-circuit boards, we have...Read more>>


More features of FP-21T series

FP-21T / FP-21THP



Performs spacing of 0.1mm or more in milling

precision.

With having 30mm in Z-axis stroke, it enables to
process thick materials.
By using the optional vacuum table, it enables to
process thin materials (200µm minimum).
The machine can process PCB larger than its working
area (maximum 2000 mm), in Y-axis, using the software.
Compatible with various materials other than substrates, 2.5 Dimensional work and additional work.
Process methods, absolute and incremental, are easily changeable manually.
With FP-21THP (air floatation model), the material is
processed without contact, leaving no markings or
scratches: which is suitable for flexible materials
such as Teflon.




FP-21T Precision



An Extreme precision machine which performs 50µm spacing. Optimal for microwave designs.
MITS General Catalog


English
(PDF file / 1.8MB)
MITS Electronics
E-MAIL


Contact us : Inquiry Form