Non-Contact Milling Head
As the board is pressured by air pressure, it leaves no undersirable traces on the board surface.
Suitable for milling the soft substrate board such as teflon circuit board.

Applicable models:
AT and HP series
FP-21T Precision

Non-Contact Board Making & Contact Board Making

When making boards with fine patterns, we usually adopt the incremental milling method
in which the material board is held down and the tool tip is made to stick out accurately
from the very point where the board is being held down. For holding down the material
boards, there are two methods called the contact method and the non-contact method.


Contact Board Making System
This system leaves the thin trace of pivot touch on the surface of copper foil.
(But this pivot does not leave any scratch.)


Non-Contact Board Making System
As the jet of air pushes down the board without touching, this system leaves no trace on the copper foil. Therefore, this system is suitable for the processing of thin or soft board materials. However, additionally you have to have an air compressor.




50µm(2mil) line and space, the state of the art!


FP-21T Precision
Stepping method and non-contacting pressure foot lead to the fine processing technology



Fine Processing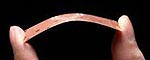 MITS PCB prototyping machines are suitable not only for typical PCB prototyping but also for fine processing of various types of materials.




MITS General Catalog



English
(PDF file / 1.8MB)

MITS Electronics
E-MAIL


Contact us : Inquiry Form


MITS USA, Inc.
E-mail :