Using MITS Eleven THP milling machine at the University of Ljubljana


We are Laboratory for Microelectronics at the Faculty for Electrical engineering, University of Ljubljana, Slovenia. Among the research projects we also very closely cooperate with the industry in very broad spectra of applications. Starting from different kind of integrated circuits design, THz, magnetic and other sensors design and fabrication, consumer electronics and development of High voltage and power circuits for automobile and other industries and also we support many kind of student projects. Very important part of our work includes development and fabrication of prototype devices. Usually we have a need for dedicated test setups for microchips and sensors that we mainly design and produce. Due to the fast technology advances it is very important for us to quickly and effectively address all our challenges. This makes rapid PCB prototyping one of the key factors of the success of our work and we strongly rely on our in-house PCB prototyping.


For the PCB boards fabrication, we use MITS Eleven THP/60. We use the machine mostly for the FR4 PCB fabrication with various thicknesses of copper layer (18-72um) and often it is gold-coated so we can then perform ultrasonic bonding to connect silicon chips directly to the PCB as shown on the photo. The bond pads for such process can be as small as 100x100 um which makes the accuracy of the machine an important factor. If possible we design single-sided PCB circuits but when this is not possible, we make double sided boards with little number of via-s as possible. To make contacts through holes we simply solder thick copper wire through holes which can also be seen on the photo and which we found to be the fastest solution. For our typical, low voltage circuits, we do not remove excess copper form the board (rubout operation) which makes the fabrication process even faster and later component soldering is still not a problem for a skillful engineer.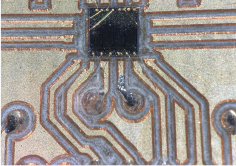 We have been proudly using MITS Eleven THP/60 PCB prototyping machine on a daily basis for over 15 years now. Although regular maintenance requires very little time we find it to be extremely reliable. We appreciate the robustness and accuracy of the machine. The included software demands very little PC power and space but it still offers us to additionally create and adapt shapes and designs of PCB boards before production which we find very handy for the last minute corrections. The operation with the machine and the software process is simple and straightforward which is very important for the new students so they do not spend too much time on learning on how to operate with the machine but rather focus on their design.


The MITS Eleven THP/60 became one of the machines that we use the most often among all our equipment and it was very helpful for us that this machine has been so reliable during all these years. We also appreciate responsive and very helpful personnel from MITS company that promptly found solutions to all our questions. We are looking forward to use MITS products in the future.


Dr. Andrej Švigelj
University of Ljubljana
Faculty for electrical engineering
Laboratory for microelectronics (LMFE)



50µm(2mil) line and space, the state of the art!


FP-21T Precision
Stepping method and non-contacting pressure foot lead to the fine processing technology



MITS General Catalog



English
(PDF file / 1.8MB)

MITS Electronics
E-MAIL


Contact us : Inquiry Form