Samples > Aluminum core PCB and practical use of prototyping machine > Aluminum Core PCB


Aluminum Core PCB for LED application



Aluminum is superior in heat conduction, corrosion resistance, lightweight and cost.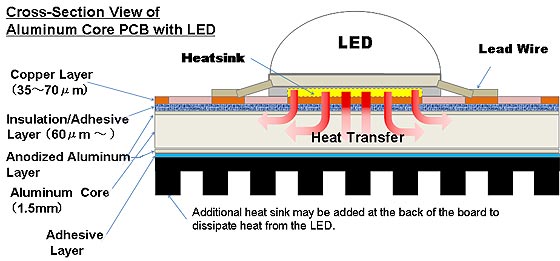 Technical Challenges

MITS protopyping machines can resolve the technical challenge

Extremely accurate cutting depth control is required to correctly mill the copper layer without breaking insulation/adhensive layer.

Our prototyping machines overcome challenges with precisely controlled motor driven Z-axis, highly accurate and ruggedized mechanism, flatness of the work table, and cross angular accuracy of X,Y and Z-axis.

High torque spindle motor to ensure counter routing of Aluminium base.
Smooth running of routing is performed by soft control of powerful spindle motor unit.


| | |
| --- | --- |
| Recommended model | |
| | |
| | |
Example of processing method


Millig
Couter Routing
Tool
HF Milling Bit
Tool
Aluminum Bit
Milling Method
Incremental Milling
Routing Method
3 stage step milling
Spindle Speed
30,000 RPM
Spindle Speed
40,000 RPM
Head Travel Speed
6mm/sec
(0.3mm HF Milling Bit)
12mm/sec
(0.5mm HF Milling Bit)

Head Travel Speed
2mm/sec
(1.0mm Aluminum Bit)
* Above milling conditions are shown just as a rough standard.



50µm(2mil) line and space, the state of the art!


FP-21T Precision
Stepping method and non-contacting pressure foot lead to the fine processing technology


MITS General Catalog



English
(PDF file / 1.8MB)

MITS Electronics
E-MAIL


Contact us : Inquiry Form